SAFE SERVICE IS OUR TOP PRIORITY.
In these times, we CAN still enjoy the GOOD TIMES… but obviously with more responsibility, more safety, and more regulations.
Although we love seeing you, please do not come out and dine out if you feel feverish, have traveled recently (within 30 days), or have been around anyone with COVID-19 in the past 30 days. Please realize that we are doing our part for YOU and our Team. We appreciate all the support and SAFE LOVE.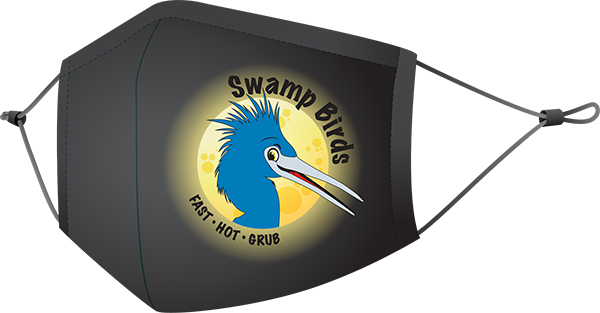 Face Coverings Are Required for All Customers
All customers entering Swamp Birds are required to wear a mask or face covering. This additional safety step is based on the most recent guidance from the Centers for Disease Control (CDC) reiterating face coverings are an effective way to prevent the spread of COVID-19.
COVID SAFETY DINE-IN REGULATIONS at Swamp Birds:
Signage will be prominently displayed asking YOU and requiring US to practice social distancing, SAFETY, and respect for the regulations for opening the Texas economy.
All Employees are required to wear GLOVES and A MASK covering their mouth and nose.
All Employees must pass a health screening that includes a temperature check before coming into the restaurant.
Hand Sanitizing stations will be available to all customers and employees, including upon entry.
All Employees will wash and/or sanitize their hands upon entering the restaurant, and between interactions with customers.
All Employees are mindful and free of cell phones, touching face, hair, and body.
All Employees are trained to follow all CDC recommendations and Kitchen Safety Rules and regulations for coughing and sneezing and WILL wash AND sanitize their hands immediately after a cough or sneeze.
Swamp Birds will continue ALL sanitizing standards for all handhelds, sanitation requirements throughout the restaurant, in between and after shifts, sanitizer stations, bathrooms, tables, chairs, door handles, knobs, screens, keyboards, office, kitchen, and so on.
Customers are required to maintain social distancing requirements from other guests at all times.
Every other table in our dining rooms will be CLOSED to accommodate social distancing and max capacity guidelines set by the state. Those tables will be CLEAR and clearly marked as CLOSED.
All OPEN tables will meet capacity guidelines, please do not show up with more than 10 people.
Every table will be sanitized upon a guest leaving and arriving with a commercial-grade sanitizer.
Dish machines and any sanitary product will be sanitized and inspected at the beginning of every shift. TEMPERATURE of WATER and CHEMICAL included.
As we know that HABITS of our previous dining industry, at any time, CAN appear on the floor by a team member (this may include bringing down a mask when wanting to talk), it is our Swamp Birds promise that our team is practicing constant communication and improvements of ALL regulations for YOUR SAFETY and OURS. We appreciate your support and WILL continue to improve and go ABOVE and BEYOND to provide a SAFER Swamp Birds experience.
Swamp Birds
2016 N. Frazier
Conroe, TX 77301

Hours
Monday – Sunday
11:00 AM – 10:00 PM CT